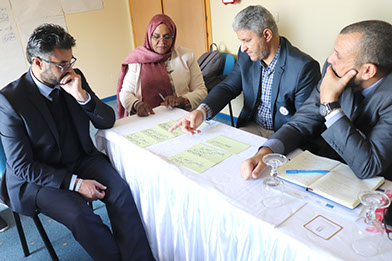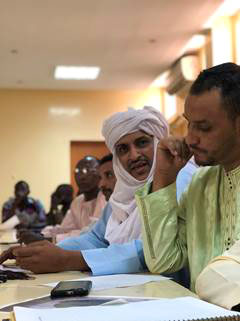 Research set-up workshop in Niamey, Niger, February 2019.
'The project provides insights about the context and internal dynamics in the three countries which should be useful to donors and those implementing policy relating to governance, conflict, and peacebuilding. […] The local government and traditional authorities angle also speaks to emerging trends in the policy sphere and the academic literature'
NWO-WOTRO SRoL International Advisory Committee (IAC)
'[…] Relevant findings […] have been identified and are communicated effectively in the final report. These relate to the politization of traditional authorities, their complex relationship with armed groups, the context of continuing insecurity, and the challenge to their legitimacy.'
NWO-WOTRO SRoL International Advisory Committee (IAC)
'The findings are based on extensive interviews and focus group discussions, along with more formal engagement with relevant actors in the case study countries. Again, it is impressive that such a large amount of good quality data has been collected and assessed over the course of the project.'
NWO-WOTRO SRoL International Advisory Committee (IAC)
Dealing with Conflict, Fragility
and Migration by strengthening democratic local government
Featured Project
Libya, Mali, Niger,
The Legitimacy of Traditional Authorities in Areas of Limited Statehood
From December 2018 till September 2019, VNG International, together with the Clingendael Conflict Research Unit (CRU) and Economie Politique & Gouvernance Autonome - Niger (EPGA) developed a study on the role of traditional authorities in areas of limited statehood in the Sahel. This research project was funded by the 6th call of the Security and Rule of Law research programme of the NWO-WOTRO Science for Global Development. The field research in Niger and Mali was conducted by CRU and EPGA and brought together during three rounds of workshops organised by VNG International in Niamey and Bamako respectively.
Results include:
The research yielded some important insights:
the appointments of hereditary leaders within traditional structures perpetuate the status quo and damage the legitimacy of such structures in the eyes of marginalised communities. Younger and underrepresented members of tribes and communities will seek alternative structures that provide greater opportunities for empowerment;
the increased roles and responsibilities undertaken by traditional authorities are empowering in the short term. However, chronic resource shortages in these areas will inevitably leave traditional authorities exposed and overburdened, and damage community trust. When legitimacy is tied to effective governance, traditional authorities in these regions may suffer greatly;
traditional authorities are valued and respected among their constituents, particularly in the fields of conflict resolution and mediation. Nonetheless, this reputation is being undermined by the need to make short-term allegiances for security at the expense of long-term stability. In a context of armed conflict, traditional authorities may feel forced to choose sides and risk eroding their neutrality and close community ties, upon which much of their legitimacy is derived.
These insights have been translated in practical recommendations on how to incorporate the role of (legitimate) traditional authorities in (inter)national interventions supporting local governance as a means to increase security and rule of law.
These insights and the discussions we had in the context of developing this research, have since continued to feed our programmes. VNG International continues to work on improving the performance of local government and assuring that it is inclusive. The fact that traditional authorities in Niger are part of the formal government, also creates an interesting paradigm, where traditional and formal governance overlap.